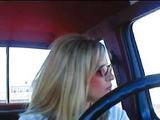 High-Speed-26.1MB-2min29sec
Dial-Up-9.6MB-2min29sec
Part 2 of the truck series from a few days ago. This truck is huge and has a stick shift, after I finally got it going the other day, and revved it up a bit, this clip continues with me taking it to town for the first time. So all those requests for me driving a big stick shift truck, are finally answered. In this clip it sounds shaky like the driver, but it keeps running, I hope when I get into town I do not stall out. Best of all, the cameraman tried out some sneaky new hidden cameras, I do not know what he has done to capture this, and in some of the future clips he has some technical problems. But the best part is, you are going for a real ride with me, and I did not even know it.